Ah yes. Those nasty Palestinian have slaughtered three Israeli citizens in the last three months. Around two hundred residents of the open air prison that is Gaza have died in the same period. Let's see that's about 60+ Palestinians, mostly women and children killed in "reprisal attacks" by the IDF for each Israeli. It doesn't even consider the number of deaths due to Israel's blockade of food, power, water, and access to medical treatment even in defiance of it's own doctors.
Would any sane person call that a "proportional" response?If you have to kowtow to the AIPAC lobby to get elected, you do.
Blue Ibis
~~~~~~~~~~~~~~~~~~~~~~~~~~~~~~~~~~~~~~~~~~~~~~~~~~~~~~~~~~~~~~~~~~~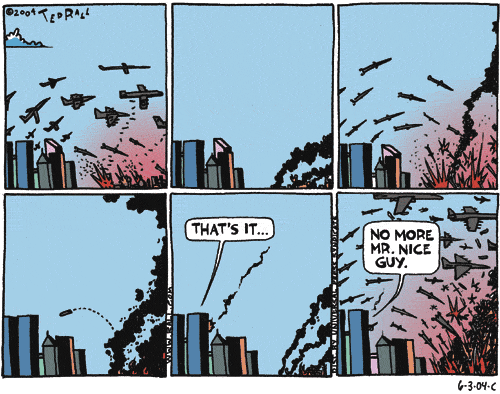 Bloomberg
Thu, 28 Feb 2008 03:18 EST

U.S. Secretary of State Condoleezza Rice, meeting Israeli Prime Minister Ehud Olmert in Tokyo, called for an end to Palestinian rocket attacks on Israeli territory from the Gaza Strip.
"Rocket attacks against Israel need to stop,'' Rice told reporters after holding a breakfast meeting today with Olmert at the New Otani Hotel in downtown Tokyo. "There needs to be due concern for people and the humanitarian situation in Gaza.''
Rice will follow up today's talks with a visit to Israel and the West Bank next week in an effort to help accelerate Middle East peace talks. Olmert and Palestinian Authority Prime Minister Salam Fayyad have expressed doubt they can meet the goal set by President George W. Bush of reaching a peace agreement by the end of this year.
Israel is involved in almost daily military operations against Palestinian groups to try to end rocket attacks. An Israeli man was killed yesterday by rocket fragments that landed in Sderot, a town near the border with Gaza. An Israeli raid into the Gaza Strip earlier killed five Palestinian gunmen, according to the military.
"I explained to her, like I explained to the people of Israel, we will make the terrorists pay a very painful price,'' Olmert said during a tour of a car factory in Oppama, Japan, south of Tokyo.
Offices Attacked
Israeli aircraft late yesterday attacked the offices of Hamas Prime Minister Ismael Hania and the nearby Interior Ministry in Gaza, both of which were empty, the Associated Press reported. Civilians were among at least 10 people, including a 6-month-old baby, killed in raids yesterday, AP cited unidentified Palestinian officials as saying.
Israel must exercise maximum restraint and not endanger civilians, United Nations Secretary-General Ban Ki-moon said in a statement yesterday that condemned the killing of four Palestinian children in military air strikes. He also referred to the Sderot attack, calling on Hamas and other groups to "cease such acts of terrorism.''
The Islamic militant movement, which is sworn to Israel's destruction, took control of the Gaza Strip when it ousted forces loyal to Palestinian Authority President Mahmoud Abbas's Fatah faction last June.
Asked whether she advised Olmert to prevent the military from using disproportionate force in Gaza, Rice said: "I think that's not a good way to address this issue. The issue is that the rocket attacks need to stop.''
Comment: Yes, the issue is NEVER about the criminal contact of the IDF against the Palestinian people. Condolizard is uttering her psychopathic remarks the moment Israeli attacks on Gaza just killed babies!
Peace Process
Rice, wrapping up a three-nation tour of Asia, said Olmert affirmed his commitment to move peace negotiations with the Palestinians forward. Olmert and Abbas have shown a "remarkable commitment'' to the process, she added.
The meeting with Rice was also Olmert's last diplomatic engagement during his four-day trip to Japan, which was aimed at boosting business and security ties.
Rice didn't comment on whether she discussed the issue of nuclear weapons proliferation and technology with Olmert.
Rice said while visiting China she is concerned that North Korea has spread nuclear weapons. Under a six-nation disarmament accord reached in February 2007, North Korea is to reveal its entire nuclear program, including possible links to Syria.
Israeli aircraft destroyed a Syrian target in September that media reports said was a nuclear plant being built with North Korean help. Israel declined to confirm or deny the reports and U.S. officials have said they won't discuss intelligence details.
Both Olmert and Rice met yesterday with Japanese Prime Minister Yasuo Fukuda, who said at a news conference that Japan will "do its utmost to realize Middle East peace.'' Olmert said he and Fukuda also agreed to cooperate in efforts to stop Iran from developing nuclear weapons.
In meetings with Fukuda and Japanese Foreign Minister Masahiko Komura, Rice expressed regret over the alleged rape of a 14-year-old girl two weeks ago by an American soldier on the island of Okinawa.