Press TV / Google cache
Sun, 01 Jun 2008 16:47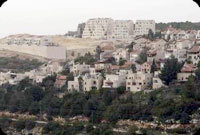 The Israel government says it is to build about 900 houses in east al-Quds, in a move that has been strongly condemned by Palestinians.
"After the weekly cabinet session we will invite tenders for the construction of 121 housing units in Har Homa and 763 others in Pisgat Zeev," Israeli housing ministry spokesman Eran Sidis said on Sunday.
The two neighborhoods lie in the Arab east al Quds, inside the 1949 Green Line. The Israeli regime occupied east al-Quds and annexed it after 1967 Six-Day War.
The decision is to further undermine US-backed Israeli, Palestinian peace talks resumed at a conference in Annapolis, Maryland. During the conference, premier Ehud Olmert promised to stop Israeli settlement activities.
Meanwhile, Palestinian officials criticized the decision, saying Tel Aviv's expansionist policies damage peace efforts between the two sides.
"We strongly condemn this decision, which is a continuation of similar decisions to expand settlements that have never stopped," Palestinian senior negotiator Saeb Erakat said.
The Israeli decision is made a day before Olmert is due to visit Palestinian Authority Chief Mahmoud Abbas.
The officials' several meetings since the beginning of the peace talks have failed to bring any tangible results.
Israeli expansions, according to Palestinians, are the main obstacle in the way of any peace deal.
"For sure we will be raising this issue, and the settlements are always the main issue in our negotiations with the Israeli side," Erakat said.
Comment: Web-censorship note: this article had already been 'pulled' from the PressTV server by the time SoTT got to it, hence the cache-link