War is teaching the children of Israel and Gaza that the other side is a bloodthirsty monster, and destroying any desire for peace
Israeli soccer matches were suspended during the assault on Gaza. When the games resumed last week, the fans had come up with a new chant: "Why have the schools in Gaza been shut down?" sang the crowd. "Because all the children were gunned down!" came the answer.

Aside from its sheer barbarism, this chant reflects the widespread belief among Israeli Jews that Israel scored an impressive victory in Gaza - a victory measured, not least, by the death toll.

Israeli pilots and tank commanders could not really discriminate between the adults and the children who hid in their homes or huddled in the UNRWA shelters, and yet they chose to press the trigger. Therefore, it is not at all surprising that the lethal onslaught left 1,314 Palestinians dead, of which 412 - or nearly one third of all of the casualties - were children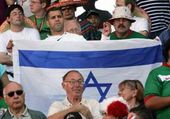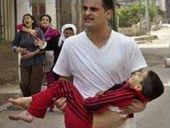 This latest assault underscores that Israel, not unlike Hamas, readily resorts to violence and does not distinguish between civilians and combatants (only the weapons at Israel's disposal are much more lethal). No matter how many times the Israeli government tries to blame Hamas for the latest Palestinian civilian deaths
it simply cannot explain away the body count,
especially that of the children. In addition to the dead, 1,855 Palestinian children were wounded, and tens of thousands of others have likely been traumatised, many of them for life.
Every child has a story. A Bedouin friend recently called to tell us about his relatives in Gaza. One cousin allowed her five-year-old daughter to walk to the adjacent house to see whether the neighbours had something left to eat. The girl had been crying from hunger. The moment she began crossing the street a missile exploded nearby and the flying shrapnel killed her. The mother has since been bedridden, weeping and screaming, "I have let my girl die hungry".
As if the bloody incursion was not enough, the Israeli security forces seem to be keen on spreading the flames of hatred among the Arab population within Israel. Hundreds of Palestinian citizens of Israel have been arrested for protesting at the Israeli assault and more than 200 of them are still in custody. One incident is enough to illustrate the psychological effect these arrests will likely have on hundreds more children.
A few days after the ceasefire, several men wearing black ski masks stormed the home of Muhammad Abu Humus. They came to arrest him for protesting against the killings in Gaza. It was four in the morning and the whole family was asleep when the men banged on the door. After entering the house, they made Abu Humus's wife Wafa and their four children Erfat (12), Shahd (9), Anas (6) and Majd (3) stand in a corner as they searched the house, throwing all the clothes, sheets, toys, and kitchenware on the floor. With tears in their eyes, the children watched as the armed men then took their father away and left.
Chance would have it that Abu Humus, a long-time peace activist and member of the Fatah party, is a personal friend of ours. In 2001, he joined Ta'ayush Arab-Jewish Partnership, and since then has selflessly organised countless peace rallies and other joint activities. During the past eight years, we have spent many hours at each other's homes and our children have grown up respecting and liking one other. It is hard to believe that just one month ago he attended the Bar Mitzvah of Yigal's son in a Jerusalem synagogue.
Muhammad and Wafa Abu Humus have tried over the years to instil in their children a love and desire for peace, and while the security forces may not have destroyed this, the hatred they have generated in one night cannot be underestimated. Indeed, what, one might ask, will his children think of their Jewish neighbours? What feelings will they harbour? And what can we expect from those children in Gaza who have witnessed the killing of their parents, siblings, friends and neighbours?
We emphasise the Palestinian children because so many of them have been killed and terrorised in the past month. Yet it is clear that Israeli children are suffering as well, particularly those who have spent long periods in shelters for fear of being hit by rockets.
The one message that is being conveyed to children on both sides of this fray is that the other side is a bloodthirsty monster. In Israel, this was instantly translated into gains for the hate-mongering Yisrael Beytenu party headed by the xenophobic Avigdor Lieberman, who is now the frontrunner in mock polls being held in many Jewish high schools, with the hawkish Binyamin Netanyahu coming in second.
Hatred, in other words, is the great winner of this war.
It has helped mobilise racist mobs, and as the soccer chant indicates it has left absolutely no place for the other, undermining even basic empathy for innocent children. Israel's masters of war must be happy: the seeds of the next wars have certainly been sown.
Lucid commentary from an
SOTT
editor:
Comment:
Psychopathic! It is Israelis that are not only fueling it but are most effective in acting on that hate. It is interesting in light of what Eliot Weinberger
wrote
concerning the events of Gaza:
Who remembers the original dream of Israel? A place where the observant could practice their religion in peace and the secular would be invisible as Jews - where being Jewish only mattered if you wanted it to matter. That dream was realised, not in Israel, but in New York City. The second dream of Israel was of a place where socialist collectives could flourish in a secular nation with democratic freedoms. Who remembers that now?

'

Never again' should international Jews invoke the Holocaust as justification for Israeli acts of barbarism

.

As in India-Pakistan, blaming the Brits is true enough, but useless. A few days ago, to illustrate the Gaza invasion, the front page of the New York Times had a large pastoral photograph of handsome Israeli soldiers lounging on a hill above verdant fields. Unquestioning faith in the 'milk and honey' Utopia of Israel is the bedrock of American Judaism, and reality does not intrude on faith.

Any hope for some sort of peace will not come from the US, even without Bush. It must come from within an Israel where the same petrified leaders are elected time and again, where masses of the rational have emigrated to saner shores and have been replaced by Russians and the American cultists who become settlers. It is hard to believe that this will be anytime soon. It is hard to believe that two states will ever be possible. So why not a new dream of Israel? A single nation, a single citizenry with equal rights, three languages - English as a neutral third - and three religions, separate from the state. Give it a new name - say, Semitia, land of the Semites.
It won't happen. So, while the likes of Weinberger can dream, real semites-the ones
Shlomo Sands wrote about
-are facing their own holocaust an Israeli soccer fans chant: "Why have the schools in Gaza been shut down?" "Because all the children were gunned down!"
Yitzhak Laor's piece in the same series of articles focused on reality instead of dreams:
Israel doesn't want a Palestinian state alongside it. It is willing to prove this with hundreds of dead and thousands of disabled, in a single 'operation'. The message is always the same: leave or remain in subjugation, under our military dictatorship. We are a democracy. We have decided democratically that you will live like dogs.
But the the Palestinians insist on trying to live like men. Since slowly starving the Palestinians isn't efficient enough for the psychopathic Israeli state, the children are gunned down and soccer fans chant.